August 28
August 28th…  And another summer draws to an end.
I remember reading a Lawhead book many years ago in which the protagonist was known as "the Lord of the Summer Realm".  I get how the designation is meant to praise.  Spring, (and the promise it brings of summer), and then summer itself are my favourite seasons.  Autumn and winter have their own attractiveness, but I'm not sure I've ever really "looked forward" to those months.  And now, at the end of summer, I again sense impending loss as I see the leaves browning and feel the cooler temperatures!  Time to take a trip to Australia for six months!!  :)  That's actually not something I let my mind think too much about for fear I'll desire it too much!
We've enjoyed meeting in our local hall during the summer for Sunday church.  Regularly, between 60-70 people have been gathering, which contrasts quite effectively with the 15-20 of a few years back.  We believe that a church makes a mistake if its main goal is to get a lot of people to the Sunday service.  And yet, when people are gathering to worship God and learn and fellowship together… it is a very healthy thing and it's encouraging to see.  We trust it is an indication of spiritual health and faithfulness.
The students return after their summer break.  (The picture to the left shows a tradition we have during the devotional time.  "Gadgets in the center!")  We've continued youth group for the local kids, but it will be interesting to see who we get this year from the dorms.  Shane and Jem are putting together welcome packages for the first year students again and the leaders have planned the events for the next few months.  I'm happy to be taking less of a role as more leaders have joined the team this year.  I'm delighted with the enthusiasm a number of the leaders have for this ministry!
The rehab ministry continues to be used by God to change lives.  It's pretty remarkable.  I was out there Saturday night and
listening to the guys talk amongst themselves.  They weren't talking about the Mayweather-McGregor fight.  They weren't talking cars or films or recounting the different risks they've taken.  During the few hours I was there, I heard several conversations about Scripture and personal change in their hearts or thoughts.  I feel blessed nearly every time I visit.
Oh!  At the rehab center we had two rabbits.  We now have 22 rabbits.  We will have…  100's of rabbits if we aren't careful!  The sh
eep, too, should be multiplying soon.  I'm sure that the guys sometimes look at them with tasty expectation.
Mitya is married.  Sveta is married.  Mitya and Sveta are married!  Wow.  It was a lovely day.  I saw God glorified.  And expect to see Him glorified as they love Him together.  Leading up to his wedding, we realized that Mitya's mind really wasn't on his rehab responsibilities, so we gave him a break.  (First break since he started ministering there.)  The special thing was that the other guys who have already gone through rehab stepped up and led the Bible discussion times and looked after responsibilities very capably.  What do we do with them all???
Angel continues to go up and down in her struggles with red-skin syndrome.  Normally its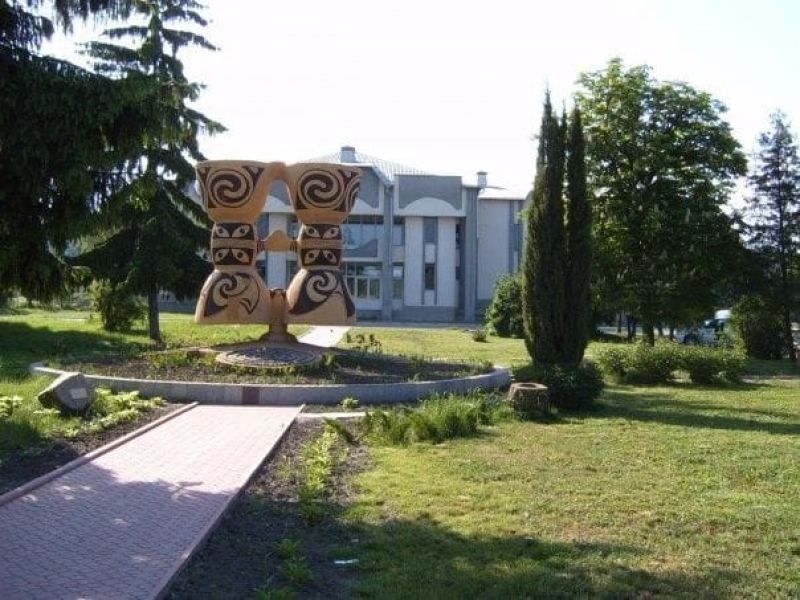 "down".  But when there is a let-up in her suffering, we all rejoice.  She's only gotten better with her piano skills as she practices and plays for church on Sunday.
Elle is sitting across from me as I type.  She is about to head out to the kids club… which is normally held outside.  She's been doing school work all morning and is looking forward to the outdoors for a couple of hours.  She enjoys helping out the mothers in the church who have little babies – especially if they ask her to babysit for them.
The young couple from our church who run the kids club would love to find/buy a room or building for the autumn/winter, and looking at the sky today… may wish that they already had such a place!  They (Stone and Morgan) have been talking with Shane and Jemi about buying a building we could use for youth/children's ministry. 
Actually, we've talked a lot over the years at different times about looking for a plot of land in the center of town to build our own building on.  Quite possibly and I think to our detriment, if we'd had $100,000 to spend, we would already have something.  We've put it off all these years, though, knowing that there will probably come a day when it will be wise for us to work towards something, but never feeling like it was time.  Wisdom dictates that until we have 150-200 people meeting regularly with lots of different ministries, we don't need the extra responsibility.  Besides, $100,000 is not something you just pull out of your wallet.  Right now, this town hall (in the picture), where we rent a room for the Sunday service, suits our needs admirably. 
Here's Pris:
We have started school—a couple weeks early—so that we can enjoy time off when Jesse (21) and Marie (20) come home during the month of January.  We already look forward to that and pray that it will be an amazingly special time. 
Angel's (17) suffering with RSS has been a strange gift in many ways.  It has deepened us in Christ, (it was either that or despair!); Angel has a list of how God has used it in her life;  Elle (12) has become far more tenderhearted; I have learned more about health and self-discipline; we have seen God provide for us to buy things to help ease her suffering as much as possible; He has given strength when we had none; helped realign my priorities with His;….  We are told that suffering produces character that is for the praise of God.  That is sure what I desire.  Please pray for Angel to endure this until its conclusion for Christ, and not just as something to endure.  It is good to stop and study how God has used our 'suffering' for good.  I think we often miss seeing that, (and it sure is encouraging), because life is so crazy busy. 
During September, I am reluctantly taking a break from a few things, including teaching the ladies, (although I am excited that a couple of them will be teaching instead).  Daniel and I are doing a biblical counseling course and the written homework required, (which I love), drains the finicky right side of my body.  I am excited to be a part of the course and thankful that it is possible to ease a few of my responsibilities so that I can continue studying. 
And with that somewhat abrupt ending, we wish you adieu!